Improve the longevity
As it is today, the leading edges of wind turbine rotor blades often have to be repaired due to harsh weather conditions and increased rotor speeds.
The Rain Erosion Tester from R&D Test Systems helps improve the longevity of wind turbine blades by testing erosion on the leading edges of the blades. This test system has a proven level of repeatability and fulfills DNV's Recommended Practice (DNV-RP-0171) for testing rotor blade erosion protection systems.
It is based on a 3-bladed helicopter principle with test specimens shaped like the leading edges of a standard blade or wing. This test setup ensures conditions very similar to real-life harsh weather in an accelerated way.
The Rain Erosion Tester has earned international acclaim for its reliability and documented repeatability and is widely used by leading wind turbine manufacturers and test centers. So far, 14 companies worldwide use the test system, including LM Wind Power and ORE Catapult.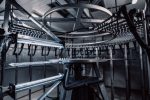 Benefits
Comprehensive turnkey test system delivered in a housing made of 20-foot containers
Fulfils DNV's Recommended Practice: "Testing of rotor blade erosion protection systems"
Proven level of repeatability and reliability
User-friendly operator interface
High uptime because tests can be conducted automatically after the initial running-in
Automatic erosion documentation (photo) and test report generation
The design of the test specimens allows for the testing of various surfaces and materials such as FRP and aluminium
Test report generation including tracking of test parameters
Full-automatic operation
CE marking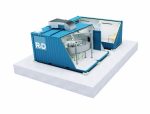 R&D Test Systems offers a turnkey solution that includes the rain system, a rotor with test specimen holders, drainage, ventilation, and control system delivered in a housing of 20-foot containers.
System safety is an important parameter because it ensures safe operation during tests at extreme rotational velocities. System safety is guaranteed both by R&D Test Systems and by external machine safety specialists.
We offer rain erosion testing for the development of features and technologies at our own rain erosion tester in Hinnerup, Denmark. The machine is equipped with a dual droplet system and can run tests at both wind and aerospace speeds.
If you are interested in rain erosion testing, you are welcome to stop by and see the machine.
Contact Key Account Manager Niels Pedersen for more information at npe@rdas.dk or +45 63 25 20 51.
Adjustable test parameters
How can we help you?
For further information about the Rain Erosion Tester, please contact us