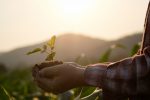 Some of our local initiatives
01
Power consumption
Climate change is an important issue for us to address. During the year, we have installed automatic light switches, bought our first fully electric company car, replaced conventional light sources with LED lighting, and installed sun reflection foil on the windows.
02
Refurbishment
We have decided that obsolete laptops, servers, screens, accessories, etc., will be sold to a professional service company specialized in refurbishing IT equipment, which ensures an extended use period for the equipment.
03
Working virtually
Based on our experiences from the COVID19 period, we have established the possibility for employees to work partly from home in situations where this is mutually considered possible. Additionally, replacing physical meetings with virtual meetings can save time for travel, energy consumption, and carbon emissions. We have established at least one virtual meeting room at each of our seven locations in Denmark, Germany, and the Czech Republic. Furthermore, we encourage our employees to use virtual meetings when possible.