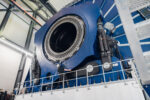 R&D Test Systems
Subsupplier aims to shave time off wind turbine testing
"R&D Test Systems aims to shorten route-to-market time for new wind turbines. Within a few years, the Danish company intends to render time-consuming testing in real wind superfluous and save customers significant sums used on repair," says R&D Test Systems Sales Director Sascha Heinecke in the EnergiWatch article.
"R&D Test Systems has a solution set for launch within a matter of years that can eliminate the need to test wind turbines in real-world conditions of wind and rain. Doing so will markedly shorten commercialization time," says Heinecke.
R&D Test Systems Sales Director Sascha Heinecke also points out in the EnergiWatch article that "Solely having a ship moored next to an offshore wind turbine to replace a gearbox can easily cost EUR 500,000. For that reason, when selling and installing a wind turbine, OEMs must be sure that it will last until the next service interval, with no unplanned maintenance or replacements of components having to take place."
For example, together with other organizations within the blade segment, we have developed a testing system capable of simultaneously applying both horizontal and vertical stress on blades - the Dual Axis Exciter. This specific test system cut roughly 40 percent off the total test time.
"That simply makes this a game-changer in regard to how long it takes to commercialize a new model. We sense that all companies involved with blade testing contact us because they can spot the big advantage," says R&D Test Systems Sales Director Sascha Heinecke to EnergiWatch.
Read the full article here on EnergiWatch