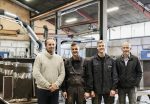 News
R&D strengthens market position within system deliveries
R&D acquires the majority of Ditlev's Svejseteknik to strengthen its position in the market. The objective is to become a full-line supplier of both engineering and steel constructions.
R&D experiences an increasing demand for its competences within complete system deliveries. Based on this, the engineering company has chosen to strengthen its market position and fields of expertise with the acquisition of the majority of Ditlev's Svejseteknik, which is renamed to R&D Steel.
"We have been very pleased with the new collaboration with Ditlev's Svejseteknik and we look forward to extending the partnership further. Strategically, the company matches our set-up and supports our ambition of delivering complete system deliveries. The constellation will generate an increased value for our customers, seeing that it enables us to offer a complete solution and specialised competences within both engineering and steel constructions," Axel Manøe Jepsen says, CEO of R&D.
New possibilities
Ditlev's Svejseteknik are acclaimed for their broad expertise within welding, project design and manufacture of steel structures, and they are audited in compliance with DS/EN 1090-1 and ISO 3834-2 - EXC4. In the most recent financial report, the company consisted of 20 qualified employees and presented a revenue of 22 million DKK.
The owners of Ditlev's Svejseteknik, Jonas and Jesper Ditlevsen, will continue to hold a significant equity interest and will assume the executive responsibility of R&D Steel. "We are very happy to commence a closer collaboration with R&D and thus create better solutions for both current and prospective customers. The combination of our knowledge and the expertise of the engineers offer new possibilities and enables us to conduct the projects from beginning to end," Jonas Ditlevsen says.
Positive synergy between craftsmanship and engineering
With the acquisition of Ditlev's Svejseteknik, R&D adds skills to its broad palette of competences, so the company is even better equipped for complete system deliveries. "For us, it has been important to preserve Ditlev's business as a separate division under R&D, since we do not wish to merge two lines of business into one. Instead, we have focused our energy towards creating a closer bond and a strong synergy between craftsmanship and engineering, as this will increase our competitive performance," Axel Manøe says. "Our customers can expect the same high quality and level of service - just with an extra dimension".
Ditlev's Svejseteknik changes name to R&D Steel as of 1 October 2017 and will be affiliated with R&D's location in 2018.