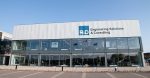 News
R&D moves its headquarters to a new and larger location
R&D has moved its headquarters to a new location in Hinnerup to meet the increasing demand for complete system deliveries in the Danish and global market.
For several years, R&D has been using the same office space at Delta 4 in Hinnerup but after years of continuous growth, the physical surroundings have become too small. Due to this, the engineering company moves into a 4254 square meter large office at Sigma 3 in Hinnerup.
Stronger synergy between engineering and craftsmanship
"During recent years, we have achieved great success, which has led to a significant growth of employees and as a result, we have outgrown our current facilities. It has been important to find a location and an office decor which support our vision of delivering world-class engineering to our customers. The new office at Sigma 3 does not only provide us with more space but also enables us to create a closer and stronger synergy between engineering and craftsmanship, since we are able to gather all our engineering disciplines under one roof," Axel Manøe Jepsen says, CEO of R&D.
The new headquarters include 2014 square meters of office facilities and a 2240 square meter large assembly and test hall, which improves the options for construction, installation and running-in of test systems and special equipment. "We look forward to moving into our new office. We are a growing company and the new and improved facilities provide us with new possibilities and greater flexibility in regard to future expansion," Axel Manøe Jepsen says.
R&D inaugurates their new headquarters on 14 May at the new address, Sigma 3, 8382 Hinnerup. In addition to the new office, R&D also has branches in Kolding, Aalborg, Lindø, Berlin, Frankfurt and Prague.
R&D will arrange an open house for customers and business partners later in the summer.