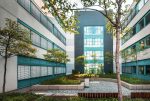 News
R&D wants to be the preferred supplier of test systems in Europe
R&D opens a branch office in Frankfurt and thus continues its expansion in the European market with yet another office in Germany.
R&D's department of Test Systems has already consolidated its position as a main player in the European market of test systems for the wind power industry but wishes to reinforce this position and gain a stronger foothold within the business of aerospace. Consequently, the company opens an office in Frankfurt to achieve a more central location, both in relation to German customers as well as in relation to the Southwestern European market. The new office will open up new possibilities within the area of test systems.
Among the leading suppliers of test systems in Europe
"We opened a new office in Berlin at the beginning of 2018 and are already reaping the benefits of this. Consequently, we continue our European expansion with an office in Frankfurt, so we are better equipped for the needs of the customers in Mid and South-Western Europe. We are among the leading suppliers of test systems to the wind power industry in Europe. We wish to achieve the same position within the business of aerospace and become a major player in other industries such as industrial gearboxes and compressors. We believe that the office in Frankfurt will contribute to the realisation of these goals," Peter Kattai Ulrikkeholm says, Business Unit Director at R&D Test Systems. "We are experiencing an increasing interest and demand from major suppliers within the aerospace industry. We have already delivered the first test systems and have more in the pipeline."
Key persons are to realise R&D's international potential
R&D has employed Ralf Nieschler, who has previously been employed in a position as Key Account Manager for Test Systems at General Electric, in which his primary focus were electrical drivetrains and relevant infrastructure of test systems. In collaboration with Gregor Krause, who is the Head of Branch Office Germany, Ralf will be in charge of the German market and contribute to R&D's expansion in the European market. "Ralf and Gregor have been chosen due to their technical know-how and vast experience within various kinds of industries. Their expertise and competences will be of great benefit both to our customers and our internal structure," Peter Kattai Ulrikkeholm concludes.