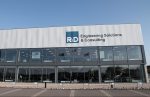 News
R&D improves as a business
R&D has been improving as a business in the last couple of years, and 2014/2015 was no exception.
Even though the company's earnings before taxes decreased with 6.3 million DKK to end on 8.7 million DKK, these numbers do not present the truth about the development at the company situated in Hinnerup, CEO Steen Rosenstand states.
"If you only look at the numbers, it might seem as though we paused but the opposite is true; R&D improved" Steen Rosenstand explains. "We opened two new offices – one in Aalborg and one in Lindø Industrial Park. We improved the management with three new managers, but most importantly we employed approximately 20 skilled engineers. We strengthened our competences and our resources significantly within test systems, offshore structural design and hydraulic system design."
Growth on all parameters
The company's gross profits increased in 2014/2015 with approximately 1.2 million DKK to land on 42.1 million DKK. The CEO emphasises that the company achieved growth in all four business areas (product development, equipment development, test systems, structure solutions and managing solutions) throughout the year.
"R&D is a double-sided business. We work as both consultants and as turnkey suppliers achieving growth in both areas. Our business of test systems grows internationally and we have received a significant order from a new customer within the German aviation industry", Steen Rosenstand explains.
He expects growth in 2015/2016 and explains that the effect of the investments in 2014/2015 can already be seen. Steen Rosenstand does not wish to quantify the expected growth, but he sees several interesting markets of potential growth.
"The market we see currently is divided. The oil and gas industry and partly the food industry are struggling. We see the energy sector as an area of growth but there are also possibilities within the traditional industry and the machine industry."