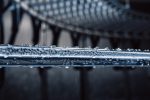 Test Systems
Aerospace Rain Erosion Tester
Benefits
Turnkey test system delivered in a housing made of 20-foot containers
SAE AMS-C-83231A Aerospace Material Specification for Coatings, Polyurethane, Rain Erosion Resistant for Exterior Aircraft, and Missile Plastic Parts
Proven level of repeatability and reliability
User-friendly operator interface
High uptime as tests can be conducted automatically after running-in
Automatic erosion documentation and test report generation
The design of the test specimens allows for testing of various surfaces and materials such as FRP and aluminum
Full-automatic operation
CE marking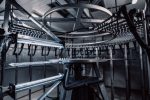 Turnkey test system
R&D Test Systems offers a turnkey test system that includes the rain system, a rotor with test specimen holders, drainage, ventilation, and control system delivered in a housing of 20-foot containers.
The equipment
It is based on a 3-bladed helicopter principle with test specimens shaped like the leading edges of a standard airplane wing. This test setup ensures conditions very similar to real-life harsh weather in an accelerated way.
Three-bladed rotor with test specimen holders
Leading-edge-shaped test specimens; exposed length approx. 390 mm
Intense and adjustable rain generation
Adjustable water temperature
Water demineralization system
Controlled air exchange (with frost protection)
Camera for documentation of erosion
Test report generation, including tracking of test parameters
Full-automatic operation
CE marking
Adjustable test parameters
Time slice can be reduced to 15 min
How can we help you?
For further information about the Aerospace Rain Erosion Tester, please contact us