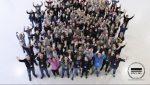 News
R&D is now ISO 9001:2015 certified
R&D is pleased to announce that we have obtained our ISO 9001:2015 certification by DNV GL.
The successful certification is a testimony of the positive commitment of all of our colleagues and demonstrates our definite desire to embrace the highest quality standard as a fundamental element of our business value.
At R&D, the quality standard is not regarded as an external administrative requirement, but as a valuable tool to streamline our day-to-day business through our engaged employees and a mutual understanding.
Higher degree of leadership
"It has been a fantastic journey. Everyone has taken responsibility and shown sincere ownership in the preparation for the audit and to the changes we have made to our quality management system", Steen Jepsen says, Quality Manager at R&D.
The ISO 9001:2015 standard demands a higher degree of leadership than the previous standards. In their audit report, DNV GL noted a very strong commitment by R&D's top management in respect to the quality management system and the choice of company values and quality objectives.
R&D recognises that quality management will improve customer satisfaction and the company's results.
"When used correctly, the quality management system has an enormous potential, which provides benefits directly reflected on the bottom line", Axel Manøe Jepsen says, CEO of R&D.
R&D is dedicated to the constant maintenance, development and improvement of the quality management accreditation in order to meet the requirements of our customers and ensure the highest quality and the best possible service.