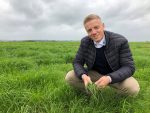 Case Study
Grass as a more climate friendly alternative to soya protein
The Danish pig and poultry production can reduce its climate footprint significantly with protein feed extracted from grass from the local area.
The Ministry of Environment and Food has granted to the project Grass-Protein Factory 14 million DKK, that will be applied in the construction of first farm facility for biorefining grass.
In 2019, the partners SEGES, Vestjyllands Andel, Ausumgaard and R&D have applied to the Ministry's green development pool subsidy. The project is about the production of grass protein, as an alternative to imported soya protein.
"It is a project that creates increased value in the entire value chain; from the farmers' fields to feed and biogas plant – and provides significant climate profits on top".
Daniel Schou Jensen, Project Director in R&D Engineering & Automation, says about the background for the grass protein plant that R&D and a strong circle of partners want to establish.
The Ministry of Environment and Food's special pool for promotion of green bio refinement for 14m DKK in subsidy to build a plant that can extract protein of standard Danish clover grass and thus offering Danish pig and poultry producers a climate-friendly alternative to soya protein, which is currently imported from South America and Asia.
The project hits the spirit of the time perfectly! The environmental profits are many and it fits in with a greener culture and development where more people are preoccupied in working sustainable, being locally rooted and organic. Now we will prove that it is also financially sustainable which the project can contribute to.
Daniel Schou Jensen
Project Director in R&D Engineering & Automation
A lot of synergy
Grass protein contributes to the climate agenda and solves the challenge of obtaining protein prospectively, Kristian Lundgaard-Karlshøj from Ausumsgaard points out:
"It provides many great synergies between plant production and biogas plants, increases value of yield grass from crop rotation, strengthens the biodiversity and even contributes to CO2-storage. It is a contribution in a lot of ways", he says.
Steen Bitsch, CEO in Vestjyllands Andel, agrees:
"The agriculture is preoccupied with sustainable production and that is the reason why the agriculture is notoriously challenged by the fact that we must import soya from South America. Grass protein can be the solution that reduces this import", he says.
National Specialist Erik Fog, SEGES, shares the view that there exists a great need for replacing soya import with a Danish produced protein:
"There is an increased climate-consciousness and many indications in the time that this solution would be wanted", Erik Fog says.
The circle of partners has already cracked the code of extracting protein from grass and the profits of a Danish produced protein are significant.
"We have established that it can be done purely technical. Now we have to figure out whether it can also work logistically and economically, and if it is scalable and can work in the industrial production. This will be shown when testing on a larger scale plant," Steen Bitsch says.
The circle of partners expects an answer on the application in the fall and if it is positive, we will be able to produce grass protein in grass season 2020.