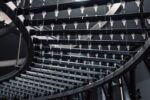 Test Systems
R&D Test Systems contributes to Airbus' UP Wing project
R&D Test Systems has been approved to participate in the "Ultra Performance Wing" (UP Wing), led by Airbus with funding from the Clean Aviation programme under Horizon Europe. The UP wing project is an important part of the "Ultra Efficient Short and Medium Range Aircraft" pillar of Clean Aviation. Horizon Europe Clean Aviation is divided by the three pillars; "Disruptive H2 technologies", "Hybrid-electric regional aircraft", and "Ultra efficient short and medium range aircraft (ultra-efficient SMR)".
Improve the energy efficiency of short-medium range aircrafts
This "ultra-efficient SMR" pillar aims to improve the energy efficiency of short-medium range (SMR) aircrafts by 30% before 2035.
R&D Test Systems' contribution to the project is focused on rain erosion testing of the leading edge of the new type of wing. Rain erosion is a challenge in the aviation industry, and testing will ensure that the new wing design can withstand the impact of rain droplets at high speeds.
"We are excited to be a part of this project and participate in ensuring the reliability of new wings that enable a greener future for aviation," says Niels Pedersen, Key Account Manager at R&D Test Systems, and adds "our expertise and capabilities within rain erosion testing will enable us to make an important contribution to the development of ultra-efficient SMR aircrafts."
This extensive testing will be conducted on the inhouse developed Rain Erosion Tester (RET), a state-of-the-art facility, which is equipped with the latest technology and equipment to ensure accurate and reliable results. The project will be executed until 2025 and will consist of different test campaigns.
"Our team of experts in rain erosion testing will work closely with the other consortium partners to ensure that the test methods are reliable and representative and carried out with the highest possible accuracy," elaborates Niels Pedersen.
By participating in the UP wing project, R&D Test Systems hopes to contribute with insightful knowledge and testing capacity and to gain more experience within the aerospace industry.
Clean Aviation program and Horizon Europe
Clean Aviation is a public-private partnership that aims to reduce the environmental impact of aviation in Europe. The partnership is funded by the European Union's Horizon Europe program and brings together the industry, research organizations, and government agencies. Clean Aviation focuses on three pillars: disruptive H2 technologies, ultra-efficient short and medium range aircraft, and hybrid-electric regional aircraft.
UP Wing is a #CleanAviation project funded by the European Union under grant agreement ID: 101101974. For more information about the Horizon Europe Clean Aviation program, click here.