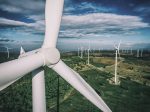 Insights
R&D develops new blade testing technology
In collaboration with leading players within the wind industry, R&D is developing more efficient test methods for wind turbine blades and equipment to excite the blades under such tests.
Wind turbine blades are exposed to highly dynamic loads, which cause them to twist and bend in different directions simultaneously. The standard certification test with which blades are tested today does not represent reality well enough. In the following years, R&D will work on newer, faster and more realistic blade testing methods in collaboration with leading companies within the wind industry.
Representatives from DTU Wind Energy, Siemens Gamesa Renewable Energy, Blade Test Centre, Olsen Wings, DNV GL, DONG Energy, Zebicon and R&D are part of the BLATIGUE project, which aims to develop a fatigue test method which realistically simulates the loads to which wind turbine blades are exposed.
Reliable test method to reduce fatigue damage
"The BLATIGUE project is a highly topical development project because the current test methods do not expose the blades to realistic loads. Currently, blade testing is carried out by testing blades in one direction at a time but in real life, blades are exposed to dynamic loads in multiple directions," Christian Frier Hvejsel says, Key Account Manager at R&D.
R&D is responsible for the development and manufacture of new wind turbine blade exciters. "At present, we have investigated existing solutions and developed a concept we will proceed with," Christian Frier Hvejsel says and continues: "Along with the partners in the project, we intend to mature this blade testing technology to an acknowledged method for future testing of wind turbine blades, similar to how our Rain Erosion Tester has become a standard testing method of wind turbine blade coatings."
The project is supported by the Energy Technology Development and Demonstration Program (EUDP) under the Danish Energy Agency. Villum Fonden supports the establishment of new test equipment through the CASMaT center at DTU.