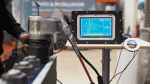 Bolt-Check has been granted a patent
Our Bolt-Check team's goal is to ensure a more reliable operation of wind turbines and other similar bolted connections.
We are pleased to announce that our PCT application from the international patent authorities has been approved. At the same time, we obtained the grant of this worldwide patent protection. After examining Bolt-Check, the international patent authorities found our invention innovative. This means that R&D Test Systems have a patent on the measuring method that calculates the length of pre-loaded bolts.
Bolt-Check can be used both when installing new bolts and when evaluating existing bolts as part of determining the lifespan of wind turbines. The ultrasonic measurement system helps you prevent issues that previous methods have not been able to. By combining ultrasound- and mechanical length, our method measure the length of the bolt without loosening them.
With the exact right clamping force and features such as full traceability of each bolt, you can schedule service and maintenance to prevent problems such as bolt fatigue and vibration loosening
Flemming Selmer Nielsen
Senior Project Engineer, R&D Test Systems