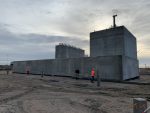 Test bench foundation
Danish engineers lay the concrete foundation for modern wind turbine tests
For 15 years, our civil engineers at R&D Test Systems have worked to develop further and fine-tune our test bench foundation solutions. Today, the concrete foundations are approaching the limit of what forces they can tame in their current form.
"We are a bit on the edge of what is physically possible," says Lasse Stephansen, Team Manager of R&D's department of civil engineers, in the EnergiWatch article.
"We are still in the process of further developing the concept because the wind turbines are constantly becoming more powerful. This means that there are some physical elements in play that are difficult to contain," says Lasse Stephansen to EnergiWatch.
"Which exact forces are affecting the foundation? Are there any critical elements, or can we extend the foundation's lifetime? A foundation is not so easy to blow up once it has been used for 10-15 years. At the same time, it is a huge investment for the customer, so there is great interest in extending the lifetime." explains Lasse Stephansen to EnergiWatch.
"This is a component that must not fail, as it can not be replaced. Once there is a fault in the foundation, you do not have a test system," says Lasse Stephansen.
Read the full article here (In Danish)