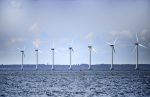 Case study
Turnkey solution to Siemens
Siemens' new test bench at Lindoe Industrial Park operates at full stretch. R&D is responsible for the completion of the tests and has been responsible for the entire project.
The development of the new test bench for Siemens began in the summer of 2015 when the project manager Kenth Skipper Mortensen from R&D and several of his colleagues worked closely with Siemens to specify the special demands for the test bench. R&D has been responsible for the entire project - from design and construction of the test bench to assembly and installation of the 50-ton heavy test equipment.
"Yet again, it has proven to be very significant that we can quickly gather the relevant competences internally at R&D at this stage in the process," Kenth says. "Our competences within hydraulics, mechanics and software proved important to this project. The complete test bench has a 90-kilowatt hydraulic component and a specially developed control system, which we have been specifying and developing from the beginning of the project."
Our collaboration with R&D has been very successful throughout the entire project
Ralf-Henning Stolte
Project Manager, Siemens
Assembled in eight weeks
Originally, the test bench was to be located at Siemens in Brande but due to various circumstances it will be built at Lindø Industrial Park. R&D was responsible for finding a possible location, obtaining planning permission, accessing electricity, and network as well as supervising the construction. "At first, it was not part of our project to be responsible for the construction site," Kenth Skipper says. "But when the need occurred and a solution had to be found quickly, we offered to solve it. Still, the project was completed on schedule."
After the team from R&D had been working intensively over an extensive period of time on the design and construction of the test bench, which will test new components for Siemens' wind turbines, three colleagues were responsible for assembling and installing the test bench. "We spent eight weeks assembling and installing the test bench. We rented a workshop on Lindoe, where we could assemble the individual components which had to be installed on the test bench afterwards with the use of cranes," Service Manager Jacob Olsen from R&D says. "The steel framework which has to carry the test bench has a length of 18 meters, a width of six meters and a height of 12 meters. The completed test bench weighs approximately 50 tons."
Satisfaction at Siemens
Today, the tests of the new equipment are conducted on the test bench. Two mechanical engineers from R&D are responsible for conducting the daily tests in collaboration with Siemens, and R&D is also responsible for the maintenance of the test bench.
"The project has confirmed our strength within turnkey systems" Kenth Skipper says. "We have been responsible for the entire project, utilised many of our internal competences and delivered a complete solution to the satisfaction of the customer.
Siemens are very satisfied with the collaboration with R&D. "Our collaboration with R&D has been very successful throughout the entire project," Ralf-Henning Stolte from Siemens says. "They have shown flexibility and they have handled the problems which have occurred in the process. Now, we are looking forward to conducting the planned tests in collaboration with R&D. When we have the results, we will perform a final assessment of the project."