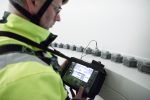 Reduce costs and damages
New DNV- certificate
R&D Engineering's Bolt-Check Standard system has received a DNV component certificate.
It is with great pleasure and pride we announce that R&D Test Systems' Bolt-Check Standard system has received a DNV component certificate. Over the last few years, Bolt-Check has gone through an intense testing and development process, which has now resulted in this certificate. This aligns Bolt-Check with the traditional torque and tension tools used for the installation and service of bolts for e.g. wind turbines.
There is nothing new to the fact that bolts are an essential part of most machinery or constructions within many areas, such as wind turbines, bridges, power plants, mining equipment, large road signs, and similar. Even so, we have experienced increased interest in the optimization of bolt connections and joints. Errors or wear and tear can cause damages or even breakdowns, resulting in large financial costs. As bolts are essential for the integrity and functionality of the construction, more and more become aware of the importance that central bolt connections of joints are tightened correctly. 
Bolt-Check: DNV certificate
With this DNV certificate, we now have an approved method that can verify whether the bolt has the correct clamping force. And without a shadow of a doubt, we can say that the right clamping force is crucial to ensure the integrity and safety of the bolted joints. Proper use and tightening of bolts helps ensure a stable and safe operation. Planning service and maintenance are more efficient, minimizing costs. In turn, there are possible significant savings for installation as well as for service/pretension of these bolts. 
All bolts covered by Bolt-Check are fully traceable. This can be used to document and optimise installation and service time, as well as the subsequent service intervals, compared to the torque and tensioning tools that are used today. With all bolts are registered, the assurance that all bolts are tightened correctly and serviced according to current specifications, is much greater. In addition, significant savings can be achieved on the purchase and maintenance of clamping tools, as these are used to a very limited extent if Bolt-Check is implemented.