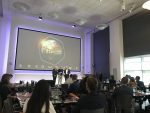 News
Grass Protein has been nominated for hi Sustainable Development Award
R&D's project "Green Grass Protein Factory & Concept" is among the five nominees for hi Sustainable Development Award.
Promoted by hi Tech &Industry Scandinavia, the new award aims to recognize sustainable initiatives in the industry. The ceremony to release the finalist projects took place on 22 August, in Copenhagen. Read more about the nomination here.
Daniel Schou Jensen, Project Director in R&D Engineering & Automation, received the nomination on behalf of R&D. Now, the jury will assess the nominee projects, and the winner will be announced on October 1st, the opening day of hi fair, at MCH Messecenter Herning.
The project is about developing a plant that can extract protein from organic grass. It will be a climate-friendly alternative to the soy protein. The first plant is being developed at Ausumgaard, R&D's partner, and will also contribute to the production of organic biogas by using the by-products from the manufacturing of grass protein. Click here to learn more about the benefits of grass protein.
hi Sustainable Development Award
The award is based on the United Nation's 17 global goals, which set the direction for more sustainable development for people, animals, the environment and climate. hi Tech & Industry wants to focus on the world goals by honoring and highlighting the exhibitors who make a special effort to integrate sustainable development into their business.