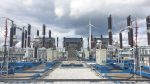 Test Systems
R&D Test Systems has installed the world's first 66 kV FRT Tester designed to achieve a type approval certificate
The wind industry continuously requests larger wind turbines to reduce the average energy cost per MW. The new sizes of wind turbines result in increased complexity and higher requirements for future tests of wind turbines.
R&D Test Systems, which supplies knowledge and turnkey large-scale dynamic test systems, provided a new test system for Vestas following the installation of a new big prototype turbine at their test site in Østerild, Denmark.
The new turbine entailed a type approval certificate, as they are obligated to fulfill the grid compliance requirements set forth by the utility company. To document the grid compliance, R&D has developed the first and only real 66 kV FRT Tester which can complete tests with valid results.
An important element of the concept is the mobile approach that supports field testing. The FRT tests consist of over- and undervoltage tests with different magnitude, where the acceptance criteria is to maintain the grid connection of the turbine. Furthermore, the 66 kV FRT Tester follows international Grid Codes and has voltage sags according to Bollen C, Bollen D.
"Currently, the needed test equipment rated for 66 kV output voltage is not available on the market. Therefore, R&D has developed the FRT Tester based on the specific requirement communicated by Vestas. The aim is e.g. to perform a zero-voltage ride-through (ZVRT) at a voltage level of 66 kV," says Gregor Krause, Project Director, R&D A/S.
In Denmark, Østerild is one of the best areas to test large wind turbines. Most crucially, the testing facility is located near the ocean, which causes plenty of wind. A mean wind speed of at least 8 meters per second at a height of 100 meters is necessary to test large wind turbines.
Currently, the needed test equipment rated for 66 kV output voltage is not available on the market. Therefore, R&D Test Systems has developed the FRT Tester based on the specific requirement communicated by Vestas. The aim is e.g. to perform a zero-voltage ride-through (ZVRT) at a voltage level of 66 kV
Gregor Krause
Project Director, R&D A/S